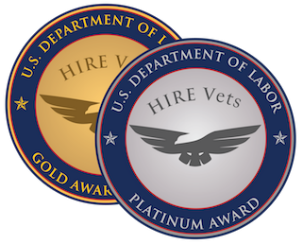 On November 8, 2018, the U.S. Department of Labor recognized SupplyCore Inc. as a gold recipient of the 2018 HIRE Vets Medallion Program Demonstration Award. The program is the only federal-level award that recognizes job creators who successfully recruit, hire, and retain America's veterans. The award was presented during a ceremony at the U.S. Department of Labor. Recipients of the award range from small businesses and nonprofits to Fortune 500 companies from 42 states, the District of Columbia, and Puerto Rico.
The HIRE Vets Medallion Program recognizes organizations that demonstrate leadership in the recruitment and employment of our nation's veterans. SupplyCore president & CEO, Peter Provenzano, actively supports these initiatives.
"At SupplyCore, we recognize the value and skills that veterans bring to an organization," said Provenzano. "Eleven percent of our associates are veterans, and we are a stronger company because of it. We are proud to be recognized by the U.S. Department of Labor as a recipient of the HIRE Vets Medallion Program Demonstration Award."
SupplyCore is dedicated to honoring the nation's military and helping its veterans, and does so through a variety of community service initiatives as well as by supporting local and national veteran's organizations. SupplyCore has also recently rolled out a new RED Shirt initiative, in which associates wear red shirts on Fridays to Remember Everyone Deployed.
The complete list of award recipients can be found at www.hirevets.gov/about/award-recipients. To learn more about the HIRE Vets Medallion Program, visit www.hirevets.gov.